________________________________________ 

…And Oh My Gadgets

We know you've been waiting for this!
Join us for the unveiling of the just-in Oh My Gauze collection for the season. We also have some fun gadgets for you to enjoy.
~ Yarn Swap ~  
Don't miss out on this great opportunity to find treasures in exchange for the yarn you know you're never going to use! 
Click here for the Yarn Swap Guidelines.
LEARN TO KNIT CLASS 
Saturday, May 3rd  10am-1pm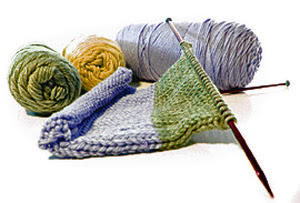 SCRAPPY SWEATER CLASS (FREE) 
Saturday, May 10th
12-3pm
Call ahead to sign up. Even though there is no fee for this class, you must pre-register to reserve your space.
~ Madelinetosh ~
…We just stocked our shelves with an excellent variety of bright colors and classic neutrals.  If you haven't made a project withMadelinetosh yarn yet, you might be missing out. It is beautifully hand-dyed. 
Come in soon, this yarn goes quickly! 
~Dzhavael~
 Dzhavael Couture is a great line of authentic French fashion. Come in soon to try on our Spring Collection!
~Lauren Vidal~
 Lauren Vidal clothing is designed by a creative Parisian designer named Revital Vidal. Her outfits are contemporary and relaxed. Inspired by minimalism, the designs span a greater diversity.
~Anne-Marie Chagnon~
Anne-Marie Chagnon uses a variety of materials to create her unique designs, including: magnetic pewter, limpid glass, luminous resin, and lavish gold. These eye catching designs manifest from a mysterious world of beauty from beyond. She shapes materials instinctively while achieving a playful harmony of form.
~A Note from Liz~
Hello Customers,
We're chock full of things to share with you this week.  Here's something I read this morning and I couldn't help but pass it on to you.
Get Rich (quick)  
Enrich your world by creating value for others.
Enrich your health by walking twenty minutes a day.
Enrich your community by contributing to someone, without keeping score.
Enrich your relationships by saying what needs to be said.
Enrich your standing by trusting someone else.
Enrich your organization by doing more than you're asked.
Enrich your skills by learning something new, something scary.
Enrich your productivity by rejecting false shortcuts.
Enrich your peace of mind by being trusted.
The connection economy pays dividends in ways that the industrial one rarely did.   
Life is so full of surprises…Hope you enjoyed this as much as I did.  
Let's keep the conversation going.   
Best to you,  
Liz
Fine Points store hours:
Mondays    CLOSED     
Stay connected with Fine Points.